MAKING GOOD PREACHING BETTER1 Preaching Workshop, LTS, Hong Kong
May 26-28, 1997
Dr. Alvin Rueter & Dr. Andrew Ng
Monday, May 26, 9:30 a.m.
HYMN 274, "Good Shepherd, Jesus Christ"
Scripture:
For what we preach is not ourselves,

but Jesus Christ as Lord, with ourselves as your servants for Jesus' sake. For it is the God who said, "Let light shine out of darkness," who has shone in our hearts to give the light of the glory of God in the face of Christ.

But we have this treasure in earthen vessels, to show that the transcendent power belongs to God and not to us.

2 Corinthians 4:5-7, RSV
Prayer
Outline:
WHY PREACH?
1. It's primary to our mission.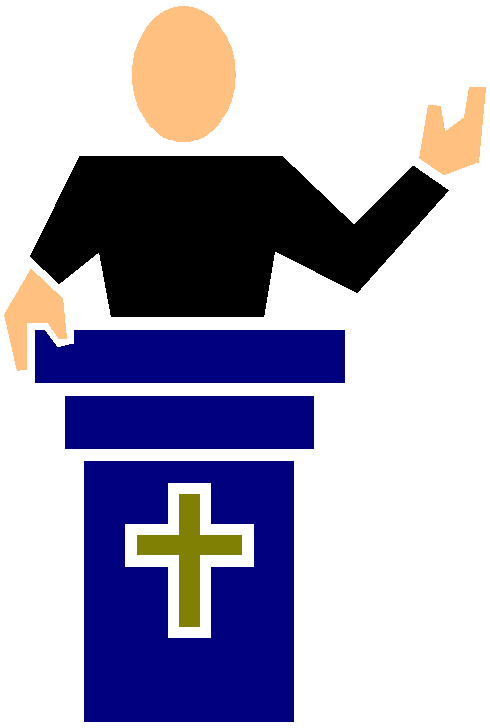 So faith comes from what is heard,
and what is heard comes from the preaching of Christ.Rom. 10:17
Woe to me if I do not preach the gospel! 1 Cor. 9:16
Sacraments: "the visible Word." Preaching: "the audible Sacrament." Augustine
2. It's basic to parish administration.
The most efficient wa;y to reach the most people +to set the mood

+to motivate our fellow members
WHY LEARN HOW TO PREACH?
1. Studying WHAT to preach is honorable and necessary.
2. Musicians and athletes show us that coaching in HOW to do it is also honorable and necessary.
CAN ANYONE BE TAUGHT HOW TO PREACH?
1. Ancient teachers of rhetoric said it was both nature and nurture:
Formal training . . . teaches them to take from a readier source the topics they would otherwise have hit upon in haphazard fashion. Isocrates, 4th century B.C.
2. Erasmus observed:
If elephants can be trained to dance, lions to play,

and leopards to hunt, surely preachers can be taught to preach.

Roland H. Bainton, Erasmus of Christendom (New York: Charles Scribner's Sons, 1969) p.168.
THE MOOD WE WANT
"I believe . . . in the communion of saints, the forgiveness of sins."
The quality that should mark the Christian Church is not goodness but grace; not merit but mercy; not moralism but forgiveness; not the enshrinement of success but the acceptance of failure. . . . Lacking the nerve of failure, we have suffered a failure of nerve--to dare to dream dreams, venture visions, and risk getting splinters that come from cutting against the grain.

Armed with the knowledge that Jesus failed, that he expects us to fail, and has provided us with a sacrament of failure, we can shake off the shackles that fetter us to success and be free to fail without timidity, without embarrassment, without timidity. Leonard I. Sweet, Theology Today, July, 1977

For me, the intellect is always the guide but not the goal of the performance. Three things have to be coodinated and not one must stick out. Not too much intellect because it can become scholastic. Not too much heart because it can become schmaltz.* Not too much technique because you can become a mechanic. Always there should be a little mistake here and there; I am for it. The people who don't do mistakes are cold like ice. It takes risk to make a mistake. If you don't take risk, you are boring. Vladimir Horowitz, quoted in Helen Epstein, "The Grand Eccentric of the Concert Hall," New York Times Magazine, Jan. 8, 1978.
WHY EXERCISES ONLY THREE MINUTES LONG?
1. To help us learn one thing at a time.
(On succeeding days, not forgetting what we learned before.)
2. To give everyone a chance to practice every time.
*schmaltz: a slang word meaning something like "too emotional"
I. Introduction
A. One way to make sermons visual is with stories.

B. People like to see what we're saying.

C. Stories produce involuntary attention.

D. But can we get enough stories in our file to fit? E. Is there a better way?
II. Body
A. Preach like a Hebrew.

1. Not, "God is the ground of my being," but, "The Lord is my shepherd." Ps. 23:1

2. Not, "It's too bad children must suffer for the sins of their parents,"

but, "The fathers have eaten sour grapes, and the children's teeth are set on edge." Jeremiah 31:29-30

3. To pass on their heritage, not a catechism but the Torah, a theology of sin and grace in pictures.

4. Jesus, our finest model:

Not, "Munificence should not be ostentatious,"

but, "When you give alms, do not blow a trumpet." Matthew 6:2

Not, "Wealth is a grave hindrance to religion,"

but, "It is easier for a camel to go through the eye of a needle . . . " Matt. 19:24

Even his Golden Rule (an abstraction) is stated simply.

5. Abstractions are useful and a mark of intelligence.

Abstractions help us organize our thinking.

6. But high-level abstractions put people to sleep.

Even smaller words can be high level abstractions as in this paragraph from a sermon in print:

The Holy Spirit is God active today. He is God our contemporary. He is God in and with us now to continue the teaching, illuminating work of the Son. He is the God of the horizons--horizons that "move forever and forever as we move." He is the God of Christian growth. The Father's unexpended resources and unrecognized glory become ours through him.

7. High-level abstractions (like the sermon theme and its main points) -- to tie things together.

8. Low-level abstractions--to help people see.

9. S. I. Hayakawa (Japanese-American) gives us this ABSTRACTON LADDER:

VIII. WEALTH VII. ASSETS VI. FARM ASSETS

V. LIVESTOCK

IV. COW (the word, c-o-w) III. BESSIE THE COW (Bessie, her name)

II. THE COW WE SEE

I. THE COW KNOWN TO SCIENCE

10. To preach like a Hebrew, strive always for a lower rung on the ladder (preferably III or at least IV).

11. Pictures of particular things evoke memories that recall and reinforce universal truths.

12. A partial list of what Elizabeth Achtemeier has learned about how to preach like a Hebrew:

Suppose we ask, Who is God? We do not know who he is in himself, but from the Bible's similes and metaphors, we do know that in relation to his people he is like a shepherd, a father, a husband, a king, a lover, a bridegroom, a warrior, a master, a vineyard owner, a lord, a consuming fire, a redeemer of a slave, a savior, a never-failing stream, a rock, a fortress, a lion, a bear robbed of her cubs, a moth, a fountain of living water, a way, a light, bread from heaven, a shield, a potter, a mother, a sword-wielder, an axwielder, a judge, a plaintiff, a witness in court.

Or let us ask, What is sin? In the language of the Bible, sin is like becoming a harlot when one is married, or rebelling against a father's love and leaving home, or attempting to storm heaven, or forgetting the past, or wandering away like sheep, or becoming subversive in a nation, or not being dressed when one is supposed to be ready for a wedding, or becoming like a rotten bunch of grapes in a well-tended vineyard, or trying to drink from an empty cistern when an ever-flowing stream is nearby, or breaking into a house by stealth, or leaning against a feeble reed, or thinking that one is divorced when one is really married, or making empty promises, or failing to release a neighbor from a debt, or grumbling over a neighbor's good fortune, or being blind, or being imprisoned, or being deaf, or not knowing what time it is, or distorting the laws of nature, or being like a bird in a snare or a prey for wild beasts.

Elizabeth Achtemeier, Creative Preaching: Finding the Words (Nashville: Abingdon Press, 1980), pp.99-100.

B.Learning how to be visual from playwrights, novelists, and TV commercials and TV programs

1. Not, "Show and Tell"

but, "Show, Don't Tell"

2. Playwrights, novelists, TV writers turn abstractions into something you can see:

a. Parents and youth don't understand each other.

b. Hatred destroys.
3. TV scripts as a possible model for sermons:
VIDEO AUDIO
a. When working on a text, ask yourself, "What is the Holy Spirit saying to me through this verse?"
b. Think of 5 or 6 people, each-representing a group in your congregation (by age, work, or social class). Ask next, "How do each of these persons likely hear this verse?"
c. Ask next: "What has the Holy Spirit said to others by means of this text?" (Do exegesis and consult published sermons.)
d. When your exegesis and audience analysis must stop, develop a one-sentence purpose for this sermon and a rough outline. Then study how to change these high-level abstractions into TV scenes, ideas that could be shot with a camera.
EXERCISE #1
1. Read the attached sermon, "Grateful for the Giver." Observe how high-level abstractions are brought down to a lower rung on the Abstraction Ladder mostly by the device of making a TV script.

2. Make an outline of "Grateful for the Giver." Discover its theme and its 2 supporting points. Then list the TV scenes that make these high-